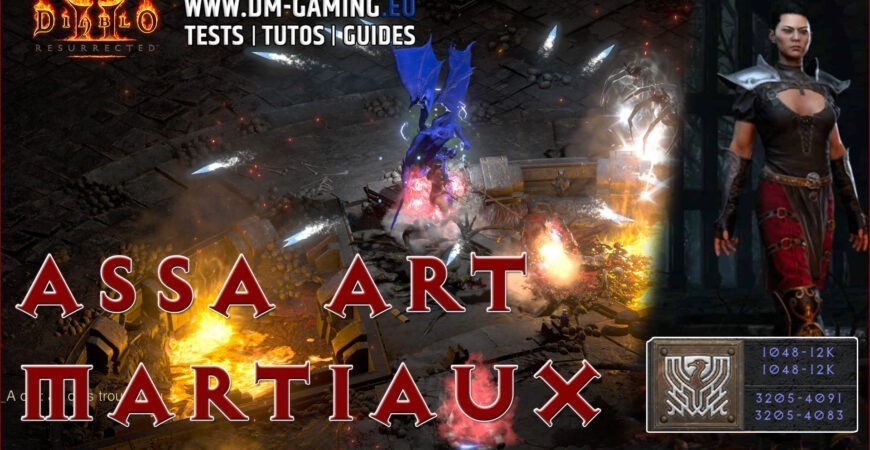 Assassin Martial Art Endgame: if you want to play martial art, here is my build to play it very easily in Hell on Diablo 2 Resurrected!
Statistics
For statistics take level 80:
strength: 167 to wear Shadow Dervish boots
Dexterity: 115 to wear the improved Bartuc
vitality: the rest
energy: 0
For the bearings:
RBF: 0
FCR: 0
FHR: 86, the next level being at 200
IAS: 0, you have the last stop with speed level 7, 3.22 attacks per second
In terms of resistance:
about 75% to all resistances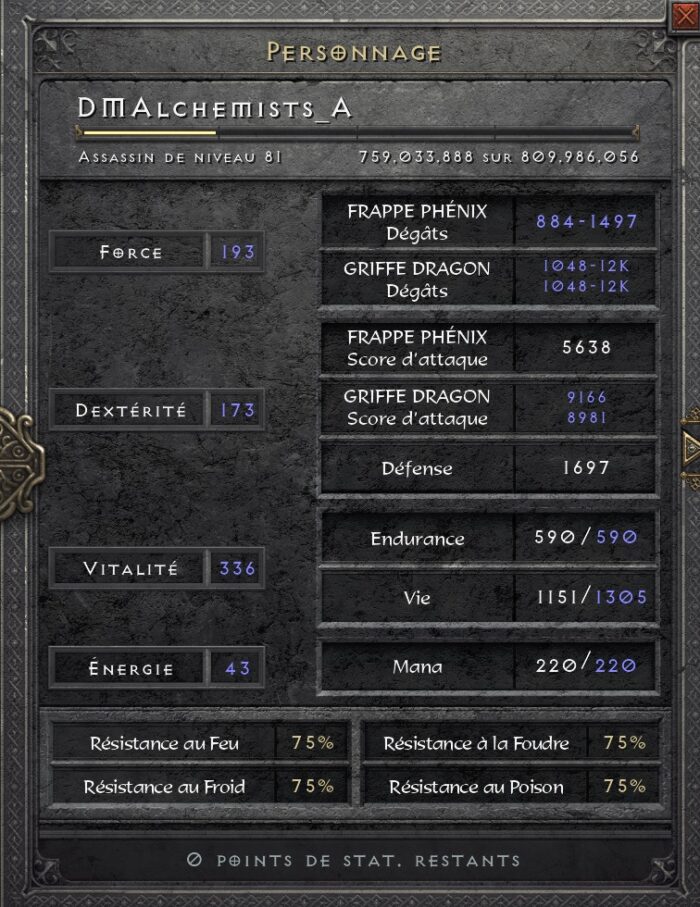 Stats of the Assassin in Hell
skills
Here are all the skills to pick up, you will be playing physical damage, lightning and ice:
Martial Arts :
Phoenix strike: max, your main spell
Ice Blade and Thunderclaw: Max, your Lightning and Cold synergies
Tiger and Cobra: alternative for physical damage and life theft
Dragon's Claw and Dragon's Flight: 1 point, your spells to release Phoenix Strike
Fist of Fire: the rest if you have points after having max Coat of Shadow
Shadow Disciplines
1 point in each except mental shock, and max Shadow Coat
Speed: your permanent buff, just one point is enough
Venom: poison damage buff
Shadow Warrior: a powerful ally at your side
Weapon Block and Claw Mastery: damage buff
Cloak of Shadow: max, allows you to hit all your targets easily
Traps:
Nothing, the Blade Shield is useless on this build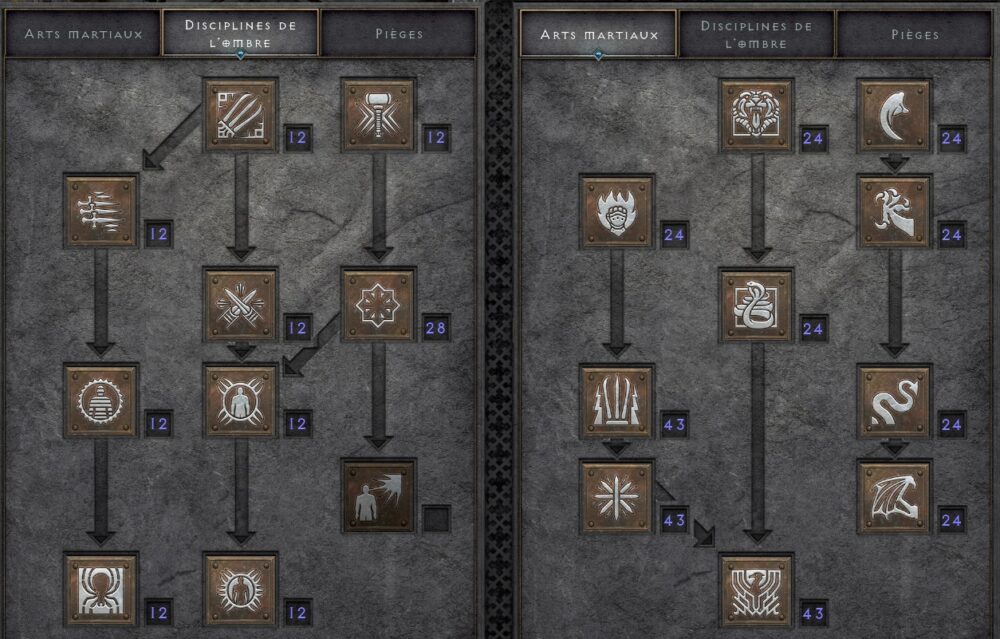 The skills of the assassin, with +23 in martial arts
Equipment
Here is the very affordable full equipment:
Weapon: double Bartuc with jewels giving resistance, and improved with Lum Pul P. Emeraude
Helmet: circlet + 2 assassin and resistance
Amulet: Assassin skills and resistance
Armor: Improved Duriel with Pul Ko P. Amethyst socket Um, or Leviathan with Um
Gloves: +2 martial arts, resistances or Draculs for balance of life
Boots: Shadow Dancer +2 martial arts
Rings: 2 rings with strength or dexterity and resistances
Charms: martial art and torch
Belt: Immortal King for strength and resistance
Mercenary Equipment
Choice of mercenary:
Act 2 Offense nightmare difficulty, will have power for your damage and his, more life stolen
Equipment to be recovered:
Helmet: Crown of Thieves or Tal Rasha for stolen life
Weapon: Insight for damage and mana aura
Armor: Treachery, damage and resistance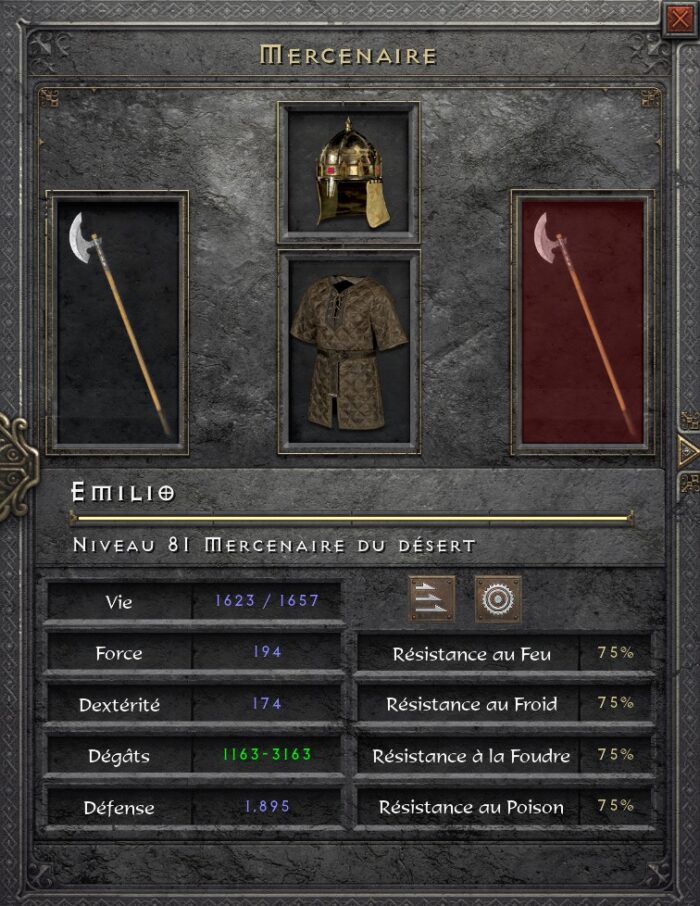 Mercenary statistics with Transparency enabled
Gameplay
An example of gameplay on Diablorun:
use Swiftness and Shadow Warrior before you start
cast Shadow Coat every 30 seconds, or as needed
use Phenix Strike charge 2 and 3
unleash the charges with Claw melee or Dragon's Flight to teleport
Use Claw to annihilate a cold and lightning resistant enemy
Do you like the Dm Gaming site and the quality of its content? Navigate ad-free and access all our guides, while supporting the costs of the server for €1 per month with the Premium Account !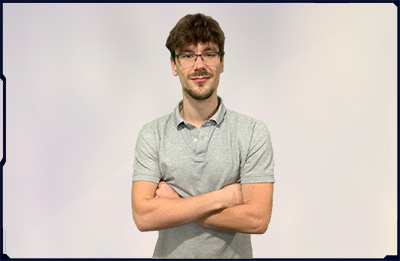 A super nice, powerful and very resistant Martial Art assassin build to easily farm in Hell on Diablo 2 Resurrected! You will have no problem killing the Immune with Physical, Cold, and Lightning damage on Phoenix Strike as well as your claw strikes!
By Alchemists, September 2021