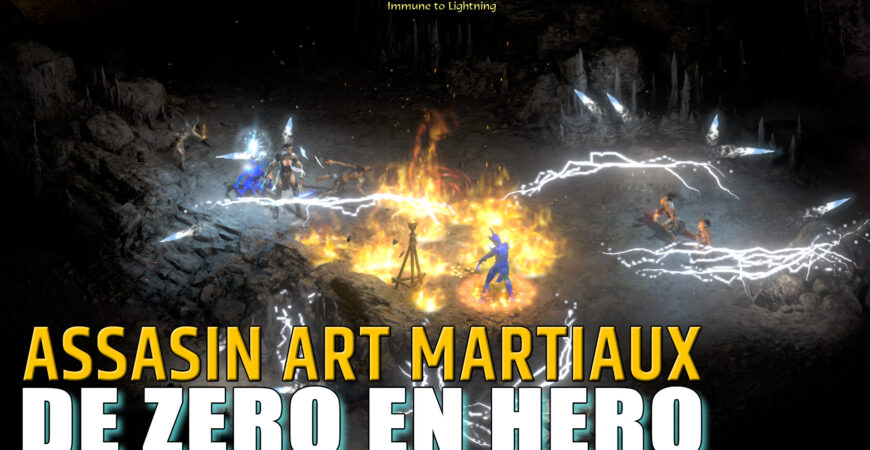 How to play Martial Art Assassin from normal start to hell on Diablo 2 Resurrected, all steps from scratch!
Statistics
Throughout the entire guide, here are the stats:
Strength: enough to carry your equipment, 79 for Bartuc, 105 for the upgrade version (not necessarily necessary)
Dexterity: to better hit your opponents, aim for 130
Vitality: everything else
Energy: nothing, possibly at the beginning you can put about twenty points then remove it during the reset
Normal, 1 to 35
Here are the key points of this phase:
equipment: stealth Stealth Tal Eth level 17 and Pact of the Ancients level 21 (as soon as the A5 Q1 quest is finished), Pattern on your claws
Skills: put 4-5 points in quickness, one in utilities and auras, the rest put in Fist of Fire. Level 30 put points in Phoenix Strike only
mercenary: take the one in offensive power Tir Béni, but it is not crucial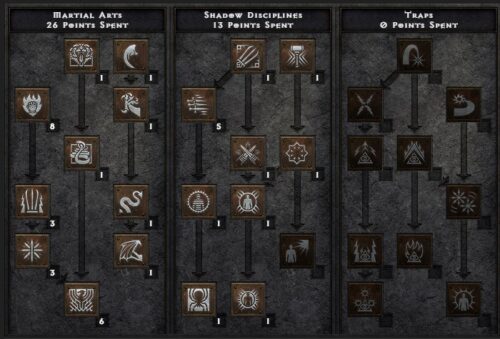 Level 35 Skills
Nightmare, 35 to 65
Here are the key points of this phase:
equipment: nothing special, collect rare items to improve your resistances
skills: max out Phoenix Strike then synergies
mercenary: he probably won't resist, you can leave him aside for now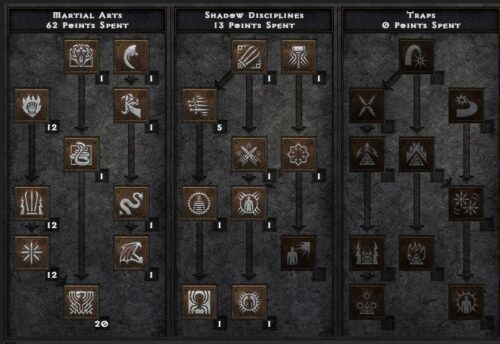 Level 65 Skills
Hell, 65 and over
Here are the key points of this phase:
Equipment: Collect a Smoke Smoke Nef Lum as soon as possible and Bartuc. Remember to bet the pieces of equipment you are missing (boots, gloves, etc.) from level 80 and above. If you have a Shael, you can do Rime to recover Freeze Immunity, otherwise grab a Frozen Raven as soon as possible
skills: max the synergies of Phoenix Strike, use Transparency instead of Speed ​​if necessary
mercenary: give a stolen life source to your mercenary, helmet or amn on the weapon, always Act 2 Blessed Shot, Insight Spirituality not really necessary
Hell, 85 and over
Here are the key points of this phase:
equipment: collect two bartuc and enough rare to have 75 resistances, then the most +x in martial arts (especially with martial art charms)
skills: max out Phoenix Strike synergies
mercenary: ideally, treachery, helmet of stolen life, a weapon that hits hard or a good Insight
Remember to do a reset to remove the points quickly, overall your skill must be between level 10 to 12.
Do you like the Dm Gaming site and the quality of its content? Navigate ad-free and access all our guides, while supporting the costs of the server for €1 per month with the Premium Account !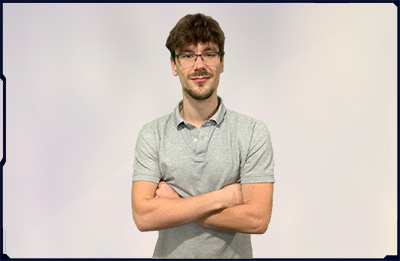 The Martial Arts assassin, who has been buffed since 2.4 Diablo 2 Resurrected is one of the coolest characters to play in PvE. With this guide, you can enjoy playing it from the start of a new season and then farming in Hell!
By Alchemists, October 2021