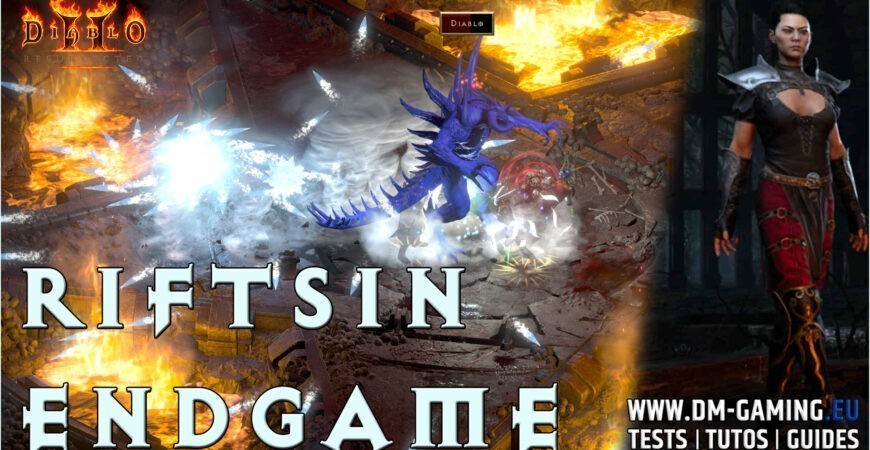 Rift Sin Kick, the best of the assassin: an ultra fun build to play in PvE, to very easily play in Hell Diablo 2 Resurrected!
How the build works
This build is based on an object, the runic word Rift, or Rupture in French. You will be able to launch several orbs of ice thanks in particular to the multiple kicks of the assassin. I offer you two versions, a melee oriented and a trap oriented!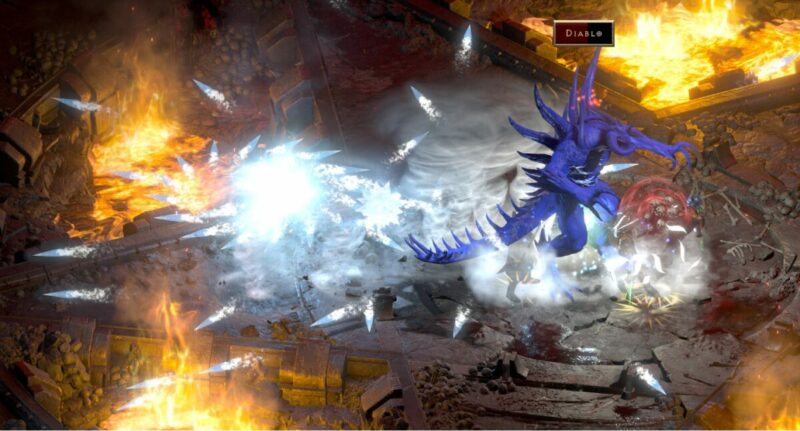 Slats and lots of cold orbs, that's the goal of Rift Sin!
Statistics
For statistics take level 80:
strength: 167 to wear the Shadow Dancers
Dexterity: 0
vitality: the rest
energy: 0
For the bearings:
RBF: 0
FCR: 0
FHR: 27
IAS: 20 + speed buff
In terms of resistance:
75% to all resistances but no damage reduced
The other statistics:
30% cold damage
-15% to cold resistance
89% movement speed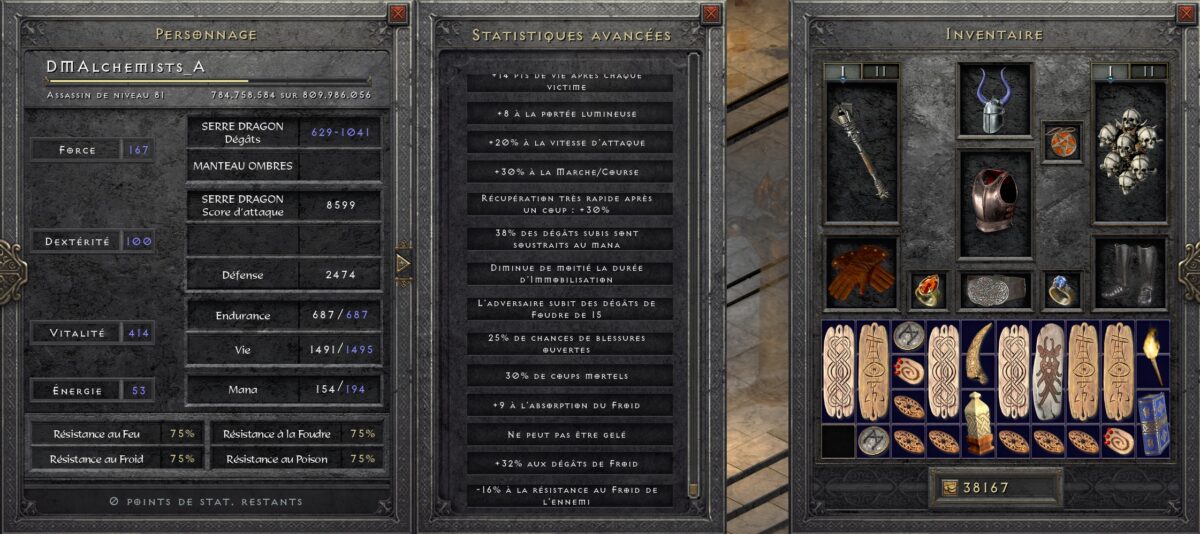 Stats with the Rift Sin Duriel armor
Pure Rift Sin Skills
Here are all the skills to take:
Martial Arts :
Dragon's Talon, 20, your main spell
Flight of the dragon, 1, for mobility
Shadow disciplines:
Speed, to reach level 16 and gain 59% movement speed
Shadowmaster, 20, for tank and dps
Coat of Shadows, 20, defense and attack rating
Venom, 1 for green weapons!
Traps:
Blade shield: the rest, allows you to launch ice orb, putting points increases its duration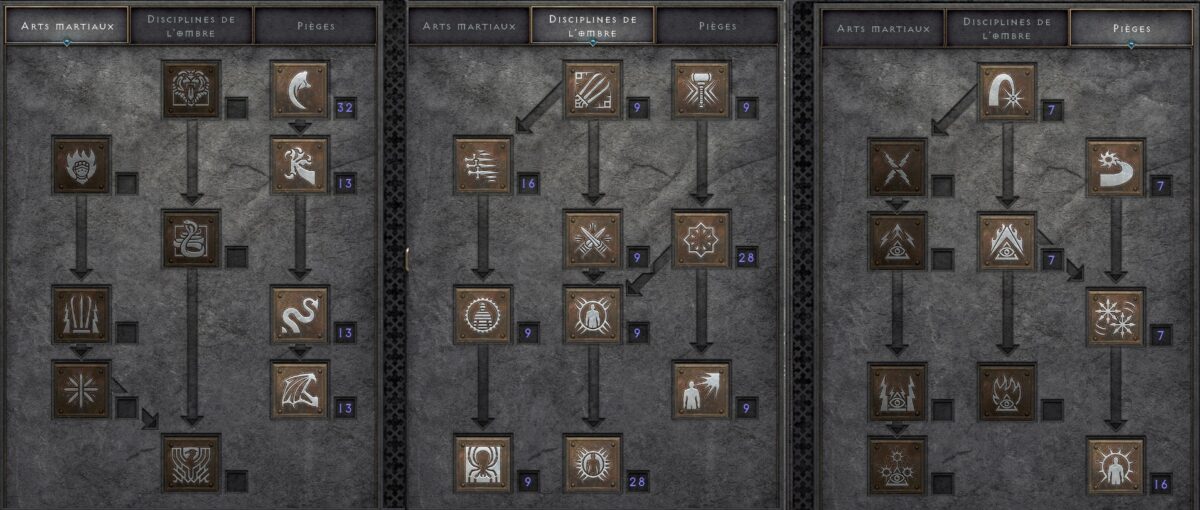 The skills of the Rift Sin version Pure Rift Sin
Rift Sin Trap Skills
Here are all the skills to take if you want to add Lightning Sentries:
Martial Arts :
Dragon's Talon, 20, your main spell
Flight of the dragon, 1, for mobility
Shadow disciplines:
Speed, 1
Master of the Shadow, 1
Traps:
Lightning Sentinel, 20 your second primary spell
Death Sentinel, 20, synergy
Electric field, 20, synergy
Electric Sentinel, the rest, synergy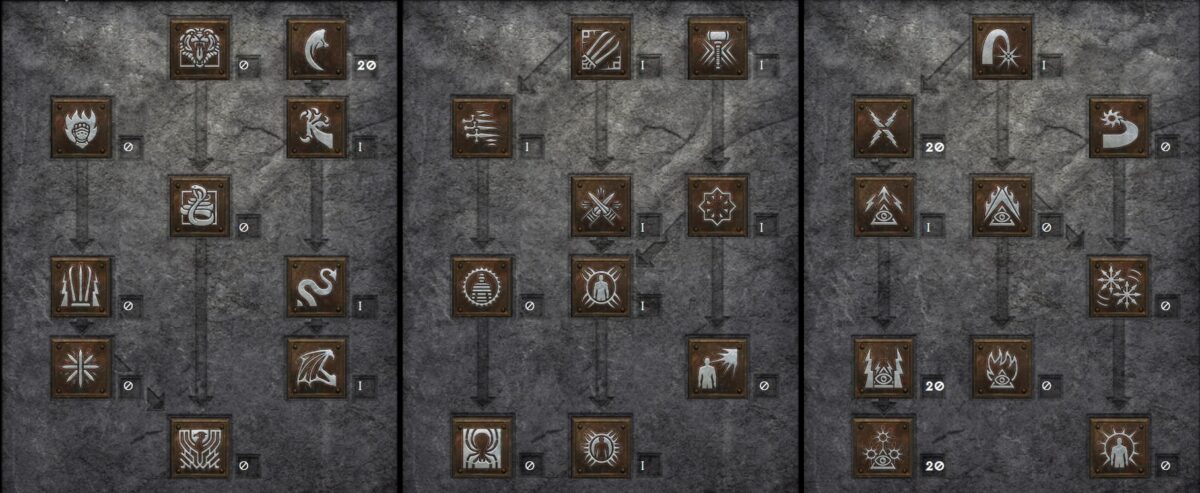 The skills of the Rift Sin version Trap Rift Sin
Equipment
The equipment does not change depending on the skills chosen, here is the one you must have:
Weapon: Rift Rutpure Runic Word Scepter
Shield: Headhunter 3 cold facet jewels OR Monarch 30/20 4 cold jewels
Helmet: Nightwing Veil Veil of the Night cold facet
Amulet: Wrath of the Lord Highlord
Armor: Improved Duriel Um OR armor socket 3 to 4 cold jewels
Gloves: Draculs
Boots: Shadow Dervish Shadow Dancer
Belt: Immortal King or String of Ear for resistance
Rings: 2 rare resistances and stats
Charms: torch and resistance charms, trap charms or martial art to complete
Mercenary Equipment
Choice of mercenary:
Act 2 cauchermar, will have power for your damage and his
Equipment to be recovered:
Helmet: Crown of Thieves or Tal Rasha
Weapon: Insight for damage and mana aura then Infinity
Armor: Treachery Traitrise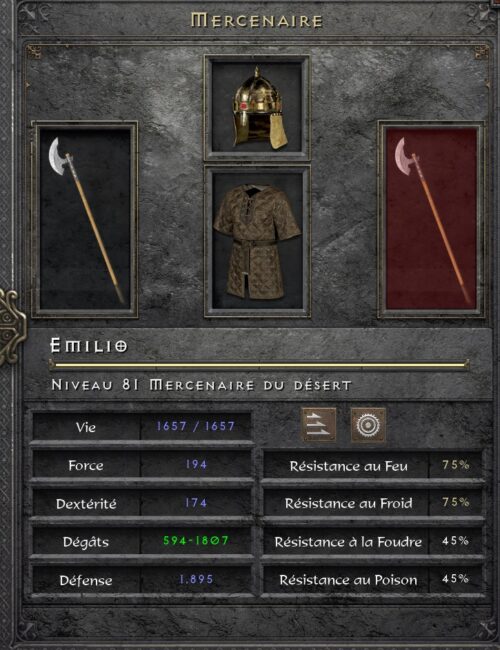 Mercenary stats without the buff activated
Gameplay
Instances are very easy to do, just be careful not to take too much physical damage as you don't have any reduction.
Do you like the Dm Gaming site and the quality of its content? Navigate ad-free and access all our guides, while supporting the costs of the server for €1 per month with the Premium Account !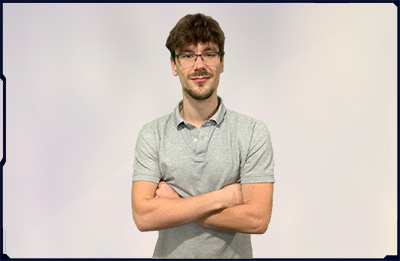 If you want to let off steam on Diablo 2 Resurrected with an Assassin, this is the most balanced and enjoyable build for me! In addition by playing the lightning variant you will have no trouble destroying all the bosses and levels of Diablo 2 Resurrected in Hell!
By Alchemists, November 2021