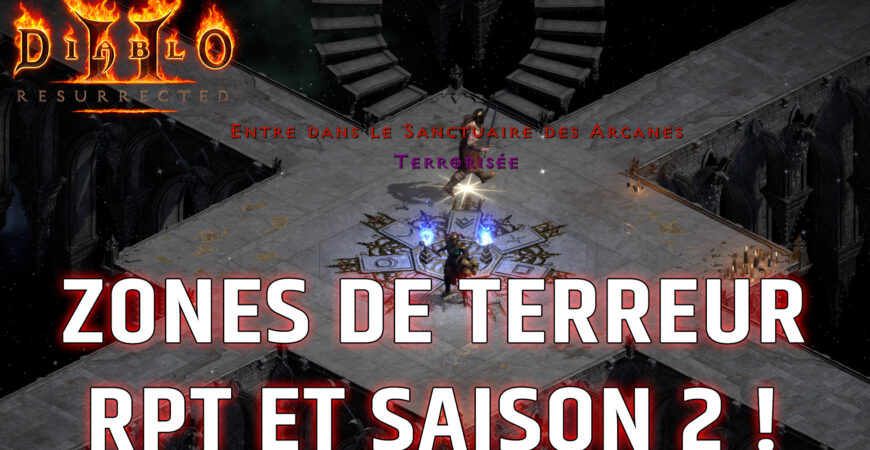 La grande nouveauté pour la Saison 2 de Diablo 2 Resurrected, les zones de terreurs ! Fonctionnement et intérêt détaillés pour ce PTR Aout 2022 !
Les zones de terreurs Diablo 2 Resurrected, c'est quoi ?
Les zones de terreur vont modifier certaines zones du jeu, les rendant plus difficile mais donnant plus d'expérience et de drops :
vous aurez un message dans le tchat, lorsque vous êtes dans la zone et les monstres auront un indicatif
chaque niveau de monstre est amélioré

Normal

Base: +2 niveaux (max 45)
Champion: +4 niveaux (max 47)
Unique: +5 niveaux (max 48)

Cauchemar

Base: +2 niveaux (max 71)
Champion: +4 niveaux (max 73)
Unique: +5 niveaux (max 74)

Enfer

Base: +2 niveaux (max 96)
Champion: +4 niveaux (max 98)
Unique: +5 niveaux (max 99)

ce sera donc très intéressant pour farm, surtout si cela tombe sur un boss comme Méphisto ou Andariel !
Les zones de terreurs Diablo 2 Resurrected, lesquelles ?
Voici les zones possible :
Act I

Sortie de ville et Repaire du Mal - Blood Moor and Den of Evil
Plaines gelées et la grotte - Cold Plains and The Cave
Crypte et mausolée - Burial Grounds, The Crypt, and the Mausoleum
Bois Obscure - Dark Wood
Black Marsh
Tour Oublié - The Forgotten Tower
Prison - Jail
Cathédrale et catacombes - Cathedral and Catacombs
Tristram
Niveau des vaches - Moo Moo Farm

Act II

Egouts -Sewers
Désert de roches et tombeau - Rocky Waste and Stony Tomb
Collines arides et couloir de la mort - Dry Hills and Halls of the Dead
Oasis Lointain et trou de vers - Far Oasis and Maggot Lair
Ville Oubliée, vallée des serpents et temple - Lost City, Valley of Snakes, and Claw Viper Temple
Harem et Palais - Harem and Palace Cellar
Sanctuaire des arcanes - Arcane Sanctuary
Tombeau de Tal Rasha - Tal Rasha's Tombs

Act III

Forêt de l'araignée et caverne - Spider Forest and Spider Cavern
Jungle de l'écorcheur et donjon - Flayer Jungle and Flayer Dungeon
Kurast inférieur - Lower Kurast
Bazar de Kurast et temples - Kurast Bazaar, Ruined Temple, and Disused Fane
Egouts de Kurast - Kurast Sewers
Travincal
Niveau de Méphisto - Durance of Hate

Act IV

Steppes Infnies et plaines du désespoir - Outer Steppes and Plains of Despair
Rivière de flame - River of Flame
Sanctuaire du chaos -Chaos Sanctuary

Act V

Colline ensanglantée - Bloody Foothills
Hautes terres - Frigid Highlands
Piste glaciale - Glacial Trail
Passage Cristallin - Crystalline Passage and Frozen River
Plateau Arreat - Arreat Plateau
Temple de Nihlathak et ses halls - Nihlathak's Temple, Halls of Anguish, Halls of Pain, and Halls of Vaught
Chemin des anciens - Ancient's Way and Icy Cellar
Zone de Baal - Worldstone Keep, Throne of Destruction, and Worldstone Chamber
Qualité de vie et correctifs
Ce patch apporte aussi quelques corrections et un peu de qualité de vie, comme la possibilité de mettre n'importe quel sort en clic gauche ou droite !
Les autres ajouts pour la saison 2 Diablo 2 Resurrected
En plus de cet ajout majeur, nous devrions avoir quelques équilibrages, même si beaucoup moins important que pour la première saison, ainsi qu'éventuellement un peu de mots runiques ou uniques.
Vous aimez le site Dm Gaming et la qualité de son contenu ? Naviguez sans publicité et accédez à tous nos guides, tout en soutenant les coûts du serveur pour 1.5€ par mois avec le Compte Premium !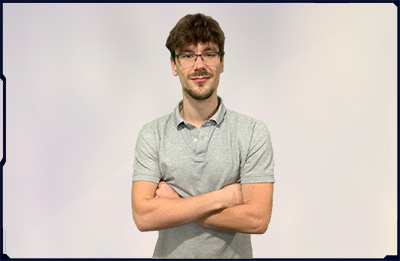 La saison 2 de Diablo 2 resurrected sera grandement marquée par l'arrivée des Zones de Terreur, un ajout bien pensée qui permet d'améliorer le farm sans dénaturer le jeu. Reste à voir les ajouts suivant pour avoir une saison 2 digne de ce nom ! En attendant n'oubliez pas que vous pouvez dès maintenant tester ce PTR Public Test Realm ou RPT Royaume Publique de Test !
Par Alchemists, Aout 2022